Trekking defaid a ddiwrnodau profiad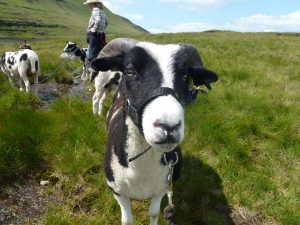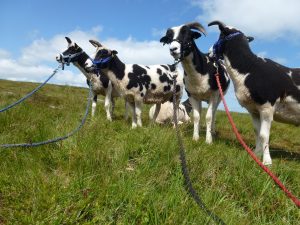 Want to own your own sheep? Walk with friendly sheep through the stunning Brecon Beacons.  As seen on Countryfile, Motorhoming with Merton & Webster and The Travel Show.
This is an unique chance to explore the Brecon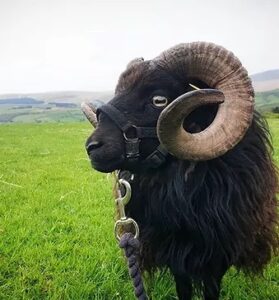 Beacons National Park in the company of your very own sheep. We started with Jacob sheep but have expanded to include fluffy Valais Blacknose, Dorsets and tiny Ouessant. Each is an individual with their own name and characteristics.  Each specially trained sheep is fitted with his own head collar and will lead you along scenic trek with picturesque views of Pen-Y-Fan and the Beacons. (Please note that views are weather dependable). Stop for a picnic along the way to enjoy the scenery and find more about the area.  Meet the flock and find more information contact Jacob Sheep Trekking
LAMBING EXPERIENCE DAYS
From the end of March for six weeks or so the farm greets new arrivals, lambs, calves and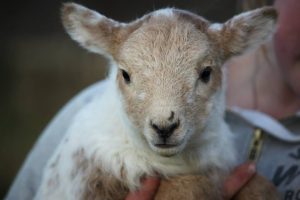 spring is all around.  We offer a hands on experience, where you may join us in our daily lambing tasks, Checking all the ewes and lambs are safe and well, keeping an eye on and possibly offering a helping hand as ewes give birth in the fields.  It could get gory! Help move ewes and lambs to fresh pasture and end your day by collecting eggs to take home for tea.  Home made lunch and snacks included. Check out Jacob Sheep Trekking and Experience days for more information.
SHEEP SHEARING & FELT MAKING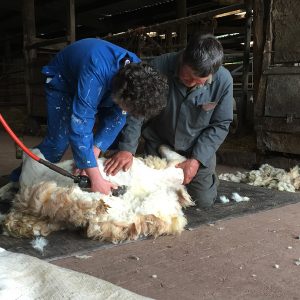 Want to learn a skill?  why not try sheep shearing or wet felt making?  Both of these activities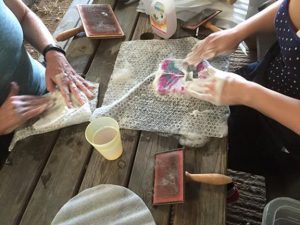 are available on the farm, either separately or on the same day. Delicious home made food and refreshments included. For more information see Jacob Sheep Trekking and Experience days. 
PAMPER SESSIONS & MORE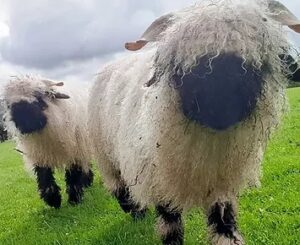 New experiences are being added all the time, to suit all tastes.  Can't you just imagine cuddling up to these two? or perhaps you would like to try your hand at a very special kind of agility?
There are specially tailored activities for young people and for those who wish to achieve a lifetime goal.
And then there are the goats!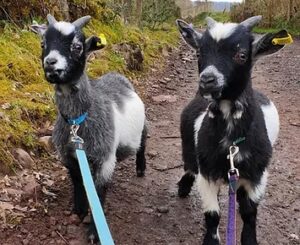 Check our Jacob Sheeptrekking and Farm Experience days website for details of all the experiences available. Don't miss the opportunity for some hands on fun during your stay.