Celf a Chrefft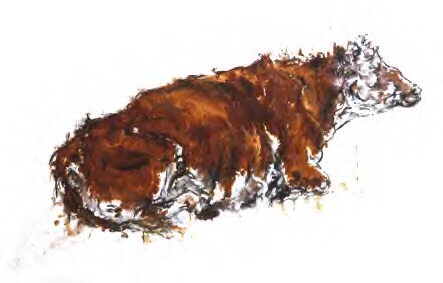 Art at Aberhyddnant
During your stay you will have the opportunity to enjoy  works by some of our local talent. If you so wish, you may also buy the majority of works on view to take home and enjoy.
Sally Matthews –  Sculptor
There the clue is in the name – she is Paul's sister and we may be a bit biased but we do think she has some exceptional pieces. Sally lives, with her family, near Hay on Wye where she is involved with many aspects of community life.
Sally is a renowned sculptor and has works around the world as well as the UK. She specializes in life size animals made from unusual materials and the works we have on display are mainly paintings are drawings produced for exhibitions or proposals for larger works.
Lesley Lillywhite – Artist Printmakery
Lesley spent part of her childhood in India, the majority of her life in England, and finally settled in Defynnog to work as printmaker. She initially qualified as a graphic designer, and ran a successful design company with her husband for many years in St.Neots in Cambridgeshire. She recently obtained an Honours degree in Fine Art Printmaking at Cambridge School of Art (Anglia Ruskin) and Cardiff Universities, after winning a bursary to investigate Japanese woodblock printing in Kyoto.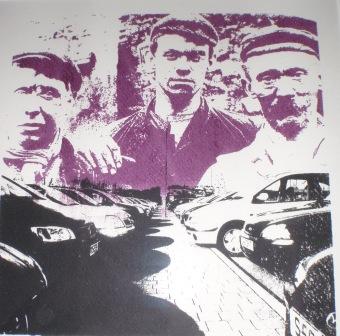 'There is infinite variety in the different ways of making prints, and I find all the processes fascinating. I am strongly influenced by the Japanese and Chinese methods of relief printing, the landscape of the Beacons and the traces of former industry and ancient culture found in Wales.'
The 'Changing Swansea' Project – in Y Beudy
I am a member of Swansea Printmakers Workshop; and Open Access studio for printmakers with all presses, equipment and materials you could possibly need. The studio ran a funded project involving schools and the community entitled 'Changing Swansea'. I was intrigued by the derelict buildings remaining from the old copper works at Landore, which is now the Park & Ride I use in Swansea. This set of prints is my response to Swansea's history as a supplier of 70% of the world's copper in the 19th century.
Ray Edgar – Photographer
Another well-known artist who has made is living though commercial works before concentrating on Fine Art Photography. Whilst not local, Ray lived in Myddfai whilst completing his 'Brecon Beacons' series of inspiring black and white images many of which may be seen in Nyth y Wennol and Y Beudy
Taking it further …
During your stay why not visit some of the excellent local galleries and craft shops in Brecon and check out their website for forthcoming events.
http://www.artbeatbrecon.co.uk
The National Park website also has information that may be of interest.
To the west you will find the lovely small market town of Llandeilo with some great independent shops, arts and crafts galleries.